Overview
Minimum bet

$ 0.01

Maximum bet

$ 0.50

RTP

96%

Volatility

High

Free Spins Game

Yes

Bonus Games

Yes

Paylines

20

Developer

NetEnt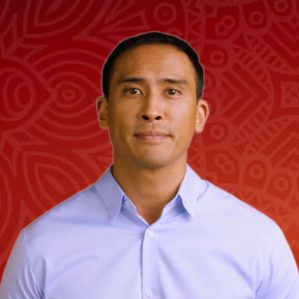 Published:
Modified:
---
About Gonzo's Quest
Unless you're quite new to the slots scene, you have probably already heard of Gonzo's Quest. Alongside Starburst, this game ensured NetEnt's dominance over the iGaming market for years to come. Set in the lush jungles of South America, join our greedy conquistador as he attempts to seize the natives' gold. If you prove a particularly good assistant, you might be richly rewarded!
Despite being released over five years ago, the game holds up quite well, both in gameplay and visuals. Gonzo's Quest has an RTP of 96%, which is equal to the current average. Paired with a satisfying paytable and some great special features, and it was guaranteed to succeed. Each spin has a chance to activate Avalanches and free spin bonuses. And you will need to make use of both if you want to hit the maximum prize that's worth 750,000 coins!
Considering its age, the slot is obviously unable to match the visual improvements we have seen over the years. But while the graphics are decent, it's the gameplay that will woo most players. This was the first big NetEnt release to make use of the Avalanche mechanic, and so the developers kept it simple. But what it lacked in complicated special features, it made up for in amazing pays!
How to Play Gonzo's Quest
We really can't talk about Gonzo's Quest without talking about the Avalanache bonus. The two are too tightly integrated with each other to separate them. The addition of a multiplier that increases with each Avalanche win was also a stroke of genius. Each consecutive prize is increased, so gamblers are encouraged to keep the streak going for as long as possible!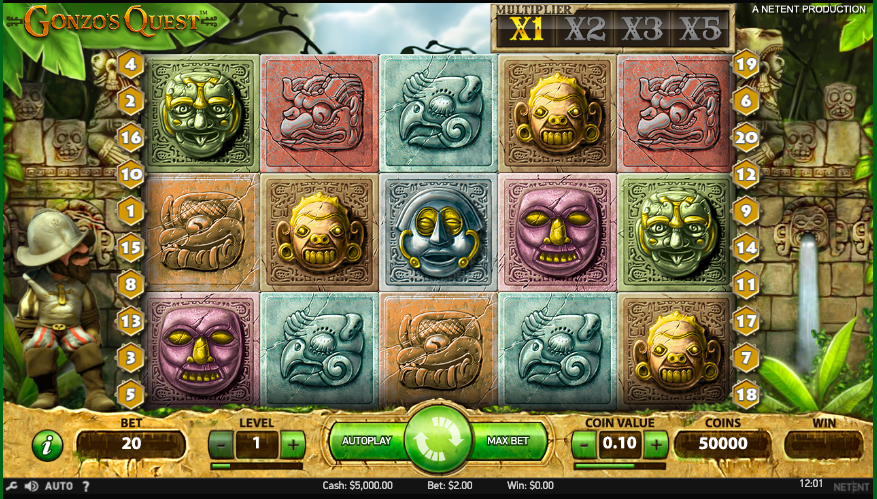 The coin range in this NetEnt release can be set between ₹1.00 and ₹50.00 per spin. By changing your coin value and bet level, players can also set their total bets. The very minimum you can wager is ₹20, while the maximum is a respectable ₹500 per single spin. This is great for casual and mid-range gamblers, but less so for high rollers.
Symbols are comprised of stone blocks, with various depictions of masks and animals. The most valuable is the golden-grey mask, which pays 2500 coins for a five-of-a-kind win. In contrast, the lowest paying icon is some skeleton bird, that only awards 50 coins for a five-of-a-kind prize. The wide disparity between the two shows the vast winning potential of Gonzo's Quest. Combined with its lucrative special features, the ability to win 750,000 coins is not as distant as it might first appear!
Special Features
Avalanche & Multipliers: Each time a winning combination is formed, existing stone blocks will explode. Existing symbols will take their place, while new ones drop from the top of the reels. This allows for multiple consecutive wins to happen for the price of a single spin. Each consecutive win bumps up the multiplier by one. For all wins after the fourth consecutive one, the multiplier is capped at 5x, and cannot increase any further.
Free Falls: Collect three Free Fall icons to win ten free spins. These symbols are not Scatters, and must appear in succession, starting with the leftmost reel. You can win additional extra turns by collecting more Free Fall symbols during free spins. While Free Falls are active, the Avalanche multipliers are boosted. They start at 3x, and are capped at 15x after the fourth consecutive win.
What's our Take?
Gonzo's Quest is a classic that is still being played to this day. While the graphics aren't as fantastic as they were back when it was released, they still hold their own. The animations are fluid, if rudimentary, and watching stone blocks blow up into chunks never gets old.
But what sets apart this NetEnt release compared to so many others is its paytable and gameplay. The core loop this slot follows is incredibly simple, but it's addictive as all hell! Watching the multiplier tick up as you win prize after prize feels great. It's RTP was great for the year it was released, but it would be considered average today. But the promise of a 750,000 coin jackpot is still just as enticing as it was over five years ago!
While we wouldn't consider Gonzo's Quest a must-play, it is well worth your time and money. If what you have read in this review sounds interesting, we recommend taking the plunge and trying it out.