Overview
Minimum bet

$ 0.01

Maximum bet

$ 1

RTP

97%

Volatility

Medium

Free Spins Game

No

Bonus Games

No

Paylines

20

Developer

NetEnt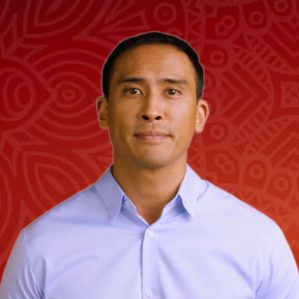 Published:
Modified:
---
About Go Bananas
We hope you like safaris and monkeys, because that's where we're heading! You were just an innocent cameraman, brought to film the beauty of the savannah for NetTV. But that all changed after a coconut was swiftly lobbed at you, and you lost your consciousness. Now, you get to watch a different kind of show – one put on by five wild monkeys! Enjoy their acrobatics and rate them appropriately. And if you prove to be a good judge, you will be richly rewarded!
The music only plays while you spin, and loops quite frequently. Go Bananas' RTP is 96.91%, which is almost a whole percentage point higher than the current average! The slot has only one special feature with five different variations. Each wild Monkey will create a different pattern of Wilds on the playing field when they appear. If you hope to win the 700x jackpot, we recommend getting friendly with the gorilla and the orangutan.
We didn't expect to like the theme as much as we did. The graphics feel somewhat dated, but they're not too bad. We like the animations of the five monkeys and their movements across the reels when they spread the Wilds. This slot is very fast paced, with frequent, small wins. The spreading Wilds bonus is quite common, too, but it usually doesn't lead to an exciting prize. But every now and then, the stars align, and you get a great jackpot that makes it all worth it.
How to Play Go Bananas
Go Bananas has a low to medium volatility. Personally, we think it was too ambitious by not including any free spins. The fast-paced gameplay and frequent wins will keep you busy, don't get us wrong. But having one more special feature alongside the spreading Wilds would have been awesome. It doesn't even have to be free spins, either! We would have liked to see Wild multipliers to further boost wins and make things even more exciting!
The coin range for this game is set between ₹1.00 and ₹100.00 per spin. By changing their coin value and bet level, players are able to adjust their total bet. You can wager as little as ₹20, or you can go all out and stake ₹2000 for each spin! This is a massive betting spread, and one we are quite pleased with. It gives casual and mid-range gamblers lots of wagering options. Meanwhile, high rollers can bet big and win even bigger!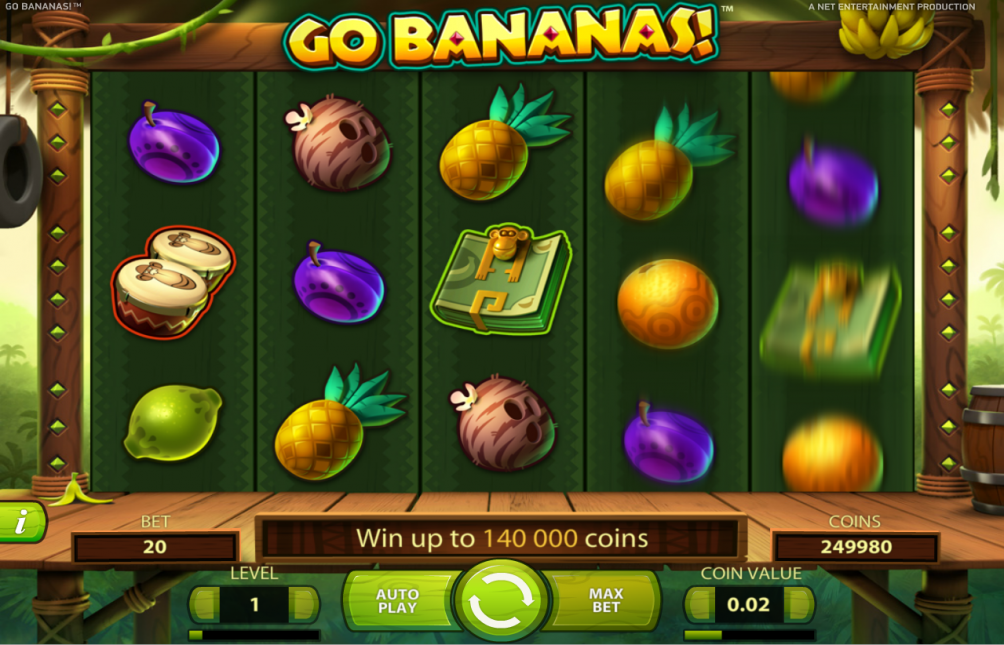 Symbols are a mixture of fruits and early civilisation objects, probably indicating our five monkeys are actually super smart. Fruits include plums, limes, coconuts, pineapples and oranges. You also have an ice-cream sundae on top of a banana, drums, a book, a golden statue and a massive ruby! The gorilla, orangutan, baboon, langur and tarsier are all Monkey icons that create Wilds. And yes, the Wild is a big banana. Totally unexpected!
Special Features
Wild Monkeys & Spreading Wilds: When one of the monkeys appear on the playing field, he will turn himself and adjacent symbols into Wilds. Each monkey has a different pattern, and we will list them all here.
Gorilla: The gorilla takes the centre position, and transforms icons that are diagonal to him into Wilds.
Orangutan: The orangutan will create a 2×2 square made out of Wilds.
Baboon: The baboon creates a Wild that covers an entire reel.
Langur: The langur creates a 1×3 Wild that guaranteed to win.
Tarsier: Depending on the tarsier's position and a bit of randomness, he can create a 2×1 Wild or a 1×2 Wild.
What's our Take?
It doesn't look too bad, but it's still unavoidably dated. Considering Go Bananas was released in 2014, it held up quite well! The monkey animations still look quite good, even if the other symbols needs a visual upgrade. The background image could stand to be a bit more detailed, too!
The frequent wins and special features make this slot a joy to play. You're never far from a prize – the only question is whether it will pay squat, or if you'll get a jackpot. With this game, you never truly know, and that's what we love about it.
We recommend trying the demo version on our website before committing real money. Once you're ready to take the plunge, we have a few casinos where you can truly Go Bananas.