Fruit Shop Slot: Christmas Edition
Overview
Minimum bet

$ 0.01

Maximum bet

$ 1

RTP

97%

Volatility

Medium

Free Spins Game

Yes

Bonus Games

Yes

Paylines

15

Developer

NetEnt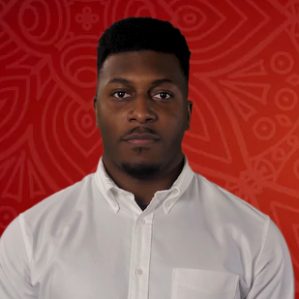 Published:
Modified:
---
About Fruit Shop Slot: Christmas Edition
Christmas versions of existing slots are usually a mildly depressing affair. Toss in some snow and Santa hats, maybe a Christmas tree or two, and call it a day. Unless you live in the very north of the country, you're probably used to this snow-based Western propaganda. Fruit Shop: Christmas Edition feels like a basic re-skin designed to pocket some cash off the back of gambler nostalgia. We expected better from NetEnt.
The game couldn't even be bothered to throw in some Christmas music to get us in the festive mood. Fruit Shop: Christmas Edition's RTP is 96.71%, exactly the same as in the original. The special features will also be immediately familiar to anyone who played the non-Christmas version of this slot. Regular symbol wins can trigger free spins, and Wilds that come with a 2x multiplier. You'll have to use both bonuses to win the 630x jackpot.
We wouldn't have minded this NetEnt release so much if they upgraded the graphics or sound design. Instead, they only reskinned the original 2011 game and called it a day. However, at least some changes were made to the visuals! The gameplay and paytable are exactly the same as in the original Fruit Shop. If you enjoyed the original, just play that instead. Don't reward NetEnt for a lazy, seasonal cash-grab.
How to Play Fruit Shop Slot: Christmas Edition
The slot has a low-medium volatility, which should make wins quite frequent. Instead, they can be quite difficult to chase down due to most wins granting at least a single free spin. It's just a matter of stubbornly spinning until the ball starts rolling. Then, you'll start winning several free spins, and each one will have a chance of being multiplied by 4x.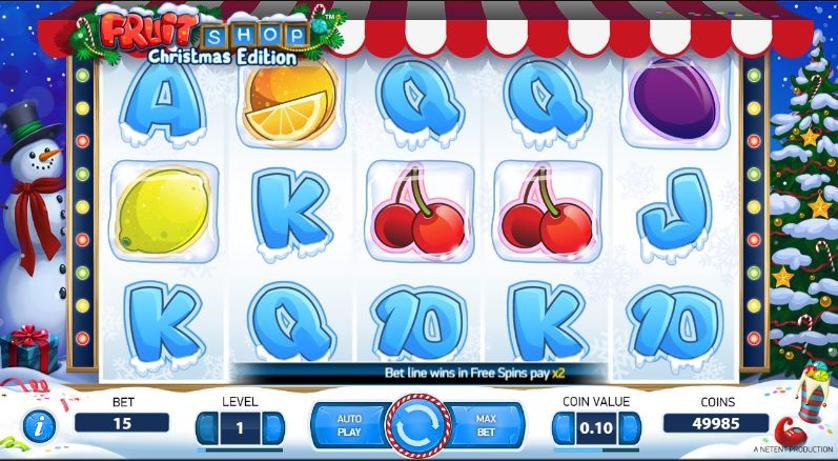 The coin range for this game is set between ₹1.00 and ₹100.00 on each spin. By adjusting your bet level and coin value, players can also change their total bet. You can play this NetEnt release for as little as ₹15, or you can go big and stake ₹1500 per spin! We adore this betting spread, as it pleases casual and mid-range gamblers, while giving high rollers a shot at huge wins!
It's the same bland icons you saw in the original slot. The bottom of the playing card royals now have snow clinging to it. The five fruits are now encased in ice cubes. The Wild has the least obvious change. Now, it has a wreath in the background. The cherry is still the most valuable symbol, and the fastest gateway to hitting the 630x jackpot. Just make sure to include one Wild, or else you won't be able to win the biggest prize.
Play Fruit Shop Slot: Christmas Edition
Special Features
Wild Multipliers: Wilds are able to substitute for all icons, since there are no Scatters in Fruit Shop: Christmas Edition. Each Wild comes with a 2x multiplier attached. If a winning combination includes a Wild, the awarded prize will be automatically doubled.
Free Spins: This way of triggering free spins was just as fun as we remember it being. Once you land a win that includes any of the fruits, you get a certain number of extra turns. A three, four or five-of-a-kind win earns you one, two or five free spins, respectively! Once the special feature has begun, playing card royal wins can also earn more extra turns. And did we mention free spins come with their own 2x multiplier?
4x Multiplier: If a winning combination includes a Wild, while free spins are being played, the multipliers will combine. This means you get a 4x increase to any cash prize you get. If you plan on winning the 630x jackpot, you will have to get lucky and score this combined multiplier.
What's our Take?
Visually, this slot is nothing more than a lazy re-skin. The background image was changed, but no music was added. There are no improvements in animations or symbol design compared to the original, either.
But, at least some changes were made on that front. The gameplay and special features of Fruit Shop: Christmas Edition remain identical to the original. That means it's still a blast to play, even if the jackpot could be better.
We really cannot recommend this version of the game. If you enjoyed the original, you should play that, instead.