Overview
Minimum bet

$ 0.01

Maximum bet

$ 1

RTP

96%

Volatility

Medium

Free Spins Game

Yes

Bonus Games

No

Paylines

9

Developer

NetEnt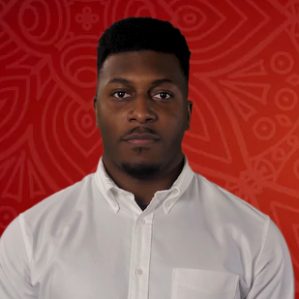 Published:
Modified:
---
About Bollywood Story
If we had to guess what the love child of Bollywood and Disney might look like, we now have a strong contender. As for the theme itself, it's centred around the strong love of a young couple. A couple that dares to defy their parents and struggle against the world, if it means they remain together. The only question that remains is if they will have a happy ending? Or will they be forced to bend the proverbial knee to their grandparents?
The music is somewhat simplistic, and loops often, but we can't get it out of our heads. Bollywood Story's RTP is 96.1%, which is very slightly above the current average. The slot has two special features: Floating Wilds and a Free Spins bonus! Floating Wilds are active all the time, and they can be very helpful under the right circumstances. With the occasional free spin here and there, the maximum prize goes up to 1000x your total stake!
NetEnt has been known to produce more eye-catching visuals than this. Despite that, we wouldn't want them to do anything flashier than what they currently have. Gameplay is rather straight-forward. Play until you land free spins, keep playing those extra turns for as long as possible, and hope you win! It won't be everyone's cup of tea, we're certain. But if you like simple games, then you'll fall in love with Bollywood Story!
How to Play Bollywood Story
This NetEnt release is played on a 5×3 board, but only has 9 fixed paylines. And no, they do not pay both ways to make up for that fact. Less paylines means your odds of winning are lower. It's not all doom and gloom, however. Floating Wilds can be surprisingly useful in a pinch, and have saved us from a total loss multiple times. And since they're always active, they're sure to keep things interesting!
The coin range for this slot ranges between ₹1.00 and ₹100.00 per spin. By changing their coin value and bet level, players are able to adjust their total wager, as well. The minimum you can bet is only ₹9, while the maximum stake you can set is ₹900 for each spin! This is a decent betting spread, one that should suit both casuals and high rollers alike.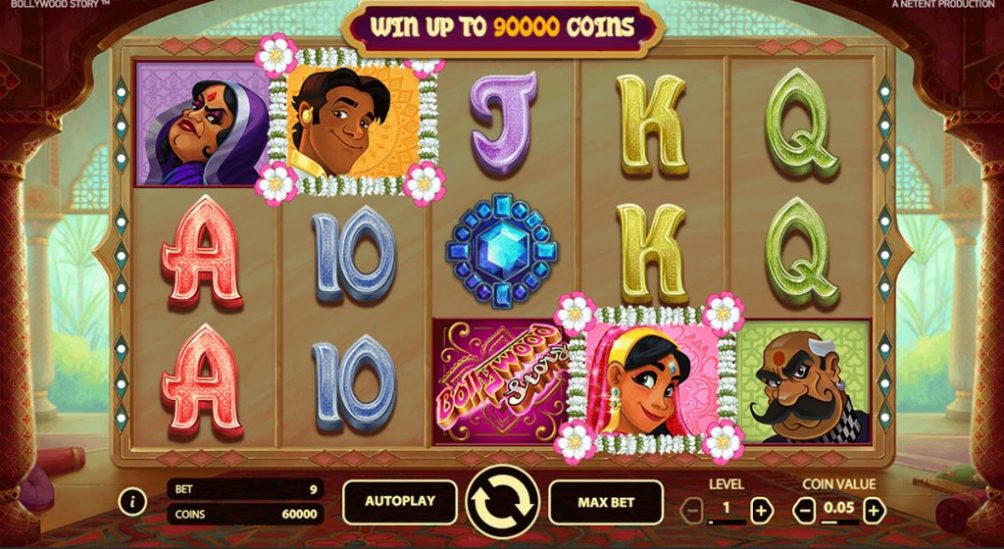 Of course, it wouldn't be India without a caste system. Fortunately, this system only applies to symbols. Icons are split into playing card royals and human symbols. A pair of very unhappy in-laws, a handsome man, and a dazzling young beauty can all be found on the playing field. The highest value icon is the game's logo. It's worth 1000x your total stake – which is the jackpot value for this NetEnt release.
Special Features
Floating Wilds: Between two to four Wilds will be overlaid over regular symbols during each spin. This is guaranteed to happen, no matter if its normal gameplay or free spins. These floating Wilds do not have any cash prizes of their own. Instead, they move position each spin, and transform whatever unlucky icon found itself in that place.
Free Spins: Collect three, four or five Scatters to win ten, twenty or thirty free spins. It is possible to win additional extra turns by collecting more Scatters while free spins are being played. Also during free spin, the number of floating Wilds changes from two to three, and a maximum of six floating Wilds.
What's our Take?
Bollywood Story shows that NetEnt's artists can make almost anything shine brightly. The story of a happy couple and disapproving parents is one that's old as time. But as the saying goes: 'If it ain't broke, don't fix it'. The symbols looked great and the background image was breath-taking.
You might be fooled into thinking this slot isn't feature-centric because it only has two of them. Well, technically one, since Floating Wilds appear on each spin. But rest assured, any decent cash prize will come from the free spins bonus, unless someone is incredibly lucky.
We had a blast playing this videoslot. Would we recommend it to others, however? We certainly think it's worth it. We recommend trying the demo version, so you can get used to playing Bollywood Story before you commit real money. Fortunately, you can try said demo right here at IndianCasinoClub!