Overview
Minimum bet

$ 0.01

Maximum bet

$ 0.5

RTP

96%

Volatility

High

Free Spins Game

No

Bonus Games

No

Developer

NetEnt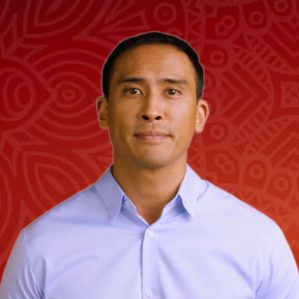 Published:
Modified:
---
About: Archangels Salvation Slot
It's not often we get a front-row seat for a battle between heaven and hell. It's an all-out battle for the souls of humanity, and only one side can emerge victorious. You can declare yourself to the pure angels, or seek power with the powerful devils. Or, like the gamblers that we are, we can decide to play both sides for fun and profit. The risks are certainly great – but the rewards for succeeding will be even greater!
An appropriately epic music score plays in the background as you play this slot! Archangels: Salvation's RTP is 96.08%, which is barely above the current average. While the house edge could be better, the special features make up for it by being awesome! Hot Spot areas at the very top and bottom of the screen, Heaven and Hell bonuses, and free spins! With all of these bonuses, you can win up to 375x your total bet on each free spin.
These graphics are not NetEnt's best, but they're very ambitious no matter how you look at it. You have two fully animated characters that will move about and cheer you on as you play and win. The playing field is not the usual fare, and we quite like the fact bonuses use this. We can guarantee this will play much different than your usual 5-reel, 3-row game. But would we recommend it? It's a tough call, but we think it deserves the thumbs-up.
How to Play Archangels Salvation
The most obvious change in gameplay will come from the different board. It is six symbols wide and twelve icons tall, with 100 fixed paylines. On top of this, this NetEnt release is feature-heavy, and has a medium volatility. The bonuses won't come flooding in, but they aren't rare, either. With a bit of luck and some grinding, they can produce decent prizes.
Coins can be set between ₹1.00 up to ₹100.00 per spin. By changing their bet level and coin value, players are able to adjust their total bet, too. The minimum you can set your stake to is ₹40, while the maximum wager is ₹2000 per spin. We imagine casual gamblers aren't too happy with this arrangement.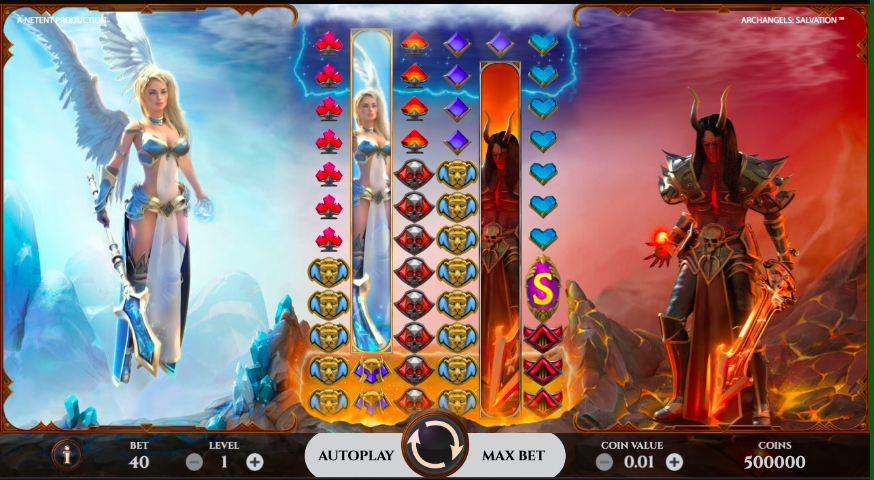 Symbol designs show some promise, but aren't a big deal. The reels are huge, but so is everything else. As a result, all the icons tend to be miniscule in size. You can still make their shapes out, but with so many being there, and so many appearing stacked, they just blend together. You will find playing card symbols, skulls, helmets, demons, lions and the archangel and demon lords occupying the reels.
Play Archangels: Salvation
Special Features
Hot Spot Areas: There are two separate Hot Spot areas at the very top and bottom of the playing field. The top-most one activates the Heaven special feature, while the bottom one triggers the Hell bonus. They occupy two rows, and expand to three rows during free spins. Both Heaven and Hell are only triggered if a 2×2 Wild partially or completely enters the hotspot.
Heaven: Two stacks of Wild icons are created for a partial 2×2 Wild. However, if the 2×2 Wild fully lands within the Heaven hot spot, then four stacks of Wilds are created instead.
Hell: Eight or sixteen single position Wilds are created in random places on the board. How many Wilds appear depends on whether the 2×2 Wild is partially or completely within the Hell hot spot.
Feature Re-activation: When the Heaven and Hell bonuses create additional Wilds, there is a chance those Wilds will land in the opposite hotspot. If that happens, then one stack of Wilds or four single Wilds will be added to the playing field for each 'invading' Wild.
Free Spins: Three or more stacked Scatters win between 10 to 25 free spins.
What's our Take?
Honestly, we were blown away by the ambition behind NetEnt's release. Archangels: Salvation does not pull any punches. Two fully animated characters, on top of the standard polish for the rest of the visuals? We were super impressed!
Gameplay was quite enjoyable too, thanks to the proper utilisation of the massive reels. There are several fun special features – our favourite would no doubt be the fact you can reactivate the special features indefinitely. Who doesn't want to get caught in a Heaven-Hell loop of massive wins?
It's an easy recommendation for us. We do wish the jackpot was a little higher, but that's our only complaint.