New Mega Moolah Slots: More Opportunities to Win a Progressive Jackpot
Most casino games have a 'right way' of doing things. Anyone who ever used a strategy guide for blackjack can tell you as much! However, such things rarely exist in slots. They are unique in the diversity of gameplay options they offer you. You can opt for a standard five-reel setup, or a more old school three-reel game. Alternatively, you can go for cluster pays instead of standard wins. The sky is the limit!
Special features are just as varied as these core gameplay elements are. However, one thing has always rung true for slots. The bigger the jackpot, the more attention it draws! Hence the reason why progressive jackpot releases have grown so popular nowadays. Microgaming has created two new additions to the Mega Moolah progressive jackpot network, which we will be looking at today!
Mega Moolah Origins
The original Mega Moolah was released in the distant year of 2006. There is a reason for this, too. The game set the standard that other developers would follow. Four different progressive jackpots, each one increasing in payout size.
It was popular enough to earn the nickname Millionaire Maker, too! In 2017, it paid twelve large jackpots, which is an incredible feat by itself. It was also responsible for setting the world record for largest jackpot payout in an online slot machine game in 2018. It paid an impressive €18,915,872.81 on a 75-cent wager. This release has more than earned its stripes. Do its sequels come close to meeting those high expectations?
Atlantean Treasures: Mega Moolah
Far beneath the waves lay the ruins of Atlantis. This grand city once held great prominence across the world of ancient Greece, but it vanished without a trace. For some, the island was nothing more than a myth. In this game, however, the only truly mythical thing are the four progressive jackpots you can win!
Atlantean Treasures is connected to the Mega Moolah network, allowing you to play and compete for the same progressive jackpot. It offers a fantastic change of pace for punters who want to try something new while trying their luck. It looks great, plays even better and offers a higher RTP than the original. At 92.08%, it is on the low side. If it produces progressive jackpot wins like its predecessor, then all will be forgiven.
One more thing worth noting are special features. Wilds can appear on reels two three and four and can substitute for anything but progressive trigger icons. Every Wild that lands will expand to fill the entire reel. Each time this happens, you get a re-spin, with the expanded Wilds locking in place. That means you can get a maximum of three re-spins under the right circumstances in this Microgaming slot.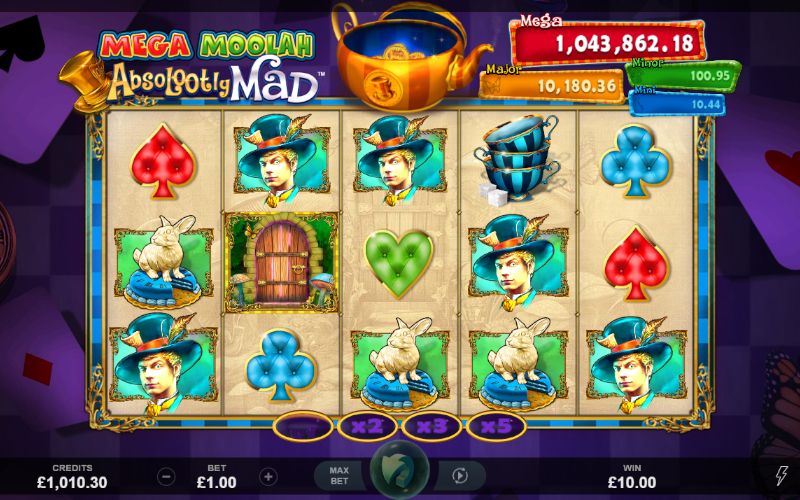 Absolootly Mad: Mega Moolah
If you prefer not getting your feet wet, there is another option available to you. If you dare venture into the realm of the Mad Hatter, you will find another venue to score the four progressive jackpots! Apart from being visually distinct, it offers more varied gameplay with multiple special features. If the previous Mega Moolah slots were too simple for your tastes, this will be an excellent addition!
You come across a bonus after your first winning spin. Symbols that were part of the winning combination disappear, making room for new ones to land. Score several consecutive wins, and your multiplier increases, capping out at 5x during normal gameplay and 15x during free spins.
To trigger the extra turns, you need to collect three or more Scatters. This awards eight free spins! The unique thing about Absolootly Mad's free spins is that Wilds can contribute to free spin triggers by filling in for Wilds. You can also retrigger free spins, which you definitely want to do in order to benefit from bigger multipliers.
What's Next?
Both games look interesting, and we at Indian Casino Club cannot wait to see what the developers have in store! We do know more Mega Moolah slots are coming. In a recent interview, the software provider hinted that more games are on the way! When they make an appearance, we will be sure to keep you in the loop. In the meantime, we have two new favourites to spend our time on!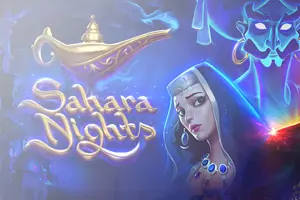 Indian Casinos Welcome Yggdrasil's New Sahara Nights Slot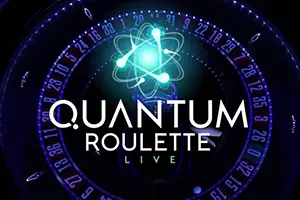 Playtech Live Quantum Roulette: Tips & Strategies